Debris Box & Deconstruction
Debris Box and Deconstruction Hauling Services
GreenWaste of Palo Alto offers debris box services for construction projects, deconstruction, remodels, property clean outs, and more. Debris boxes are available in a variety of sizes for source separated and mixed materials.
Effective July 1, 2020, the City of Palo Alto's Deconstruction & Construction Materials Management Ordinance will no longer allow demolition. Instead, it requires deconstruction, the careful disassembly of building components which prioritizes reuse and recycling.
Garbage, construction debris, miscellaneous debris, mixed concrete, brick, sod
Clean wood, metal, clean concrete, sheetrock, asphalt shingles, carpet, cardboard, dirt
Materials that are NOT Accepted
Concrete slurry or paste
Freon containing items
(e.g. refrigerators, freezers, AC units)
Food & Liquid
Hazardous waste
(e.g. batteries, paint, chemicals, oil)
Medical waste
Sludge
Treated wood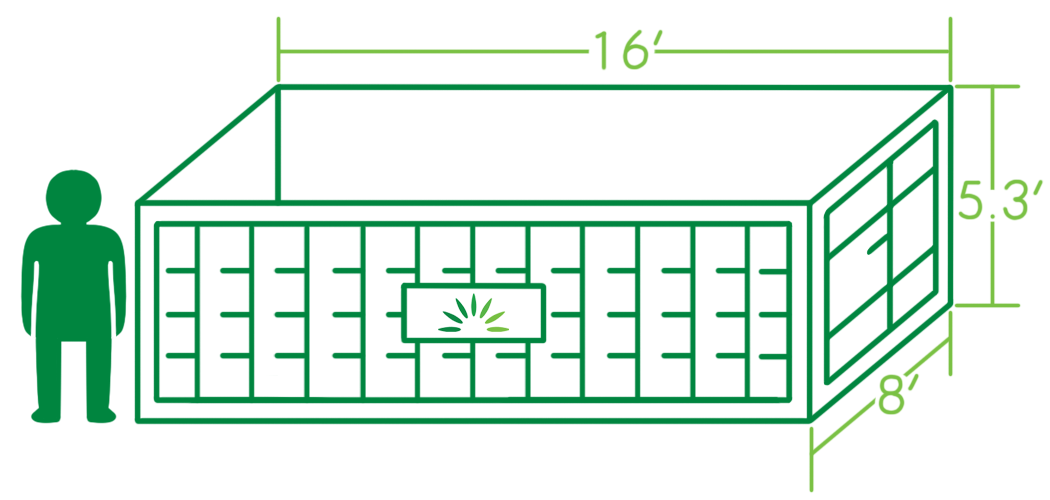 Our most popular box size, ideal for small remodels, deconstruction projects, property clean outs, and general debris removal.
Dimensions
16' L x 8' W x 5'.3" H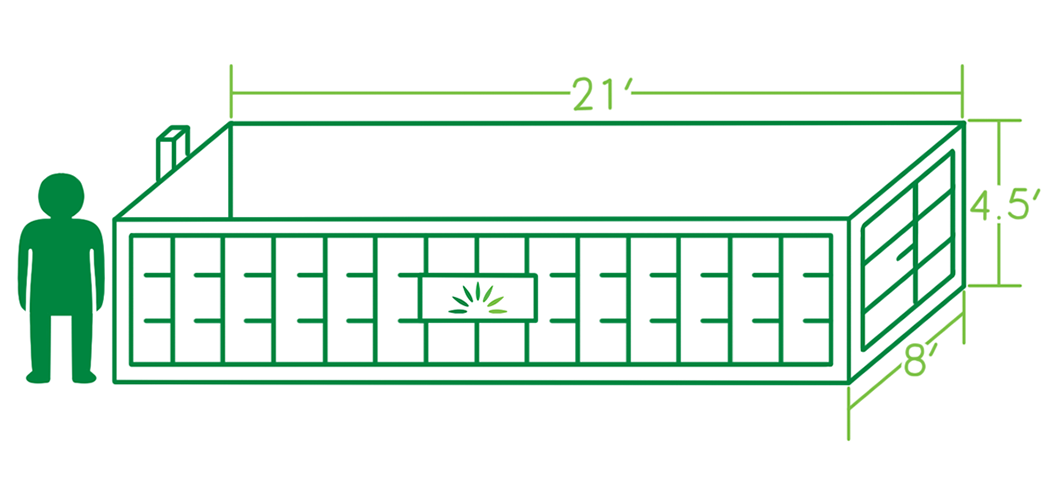 Great for medium to large sized construction projects, clean ups, office cleanouts, home additions, deconstruction, and more.
Dimensions
21' L x 8' W x 4'.5" H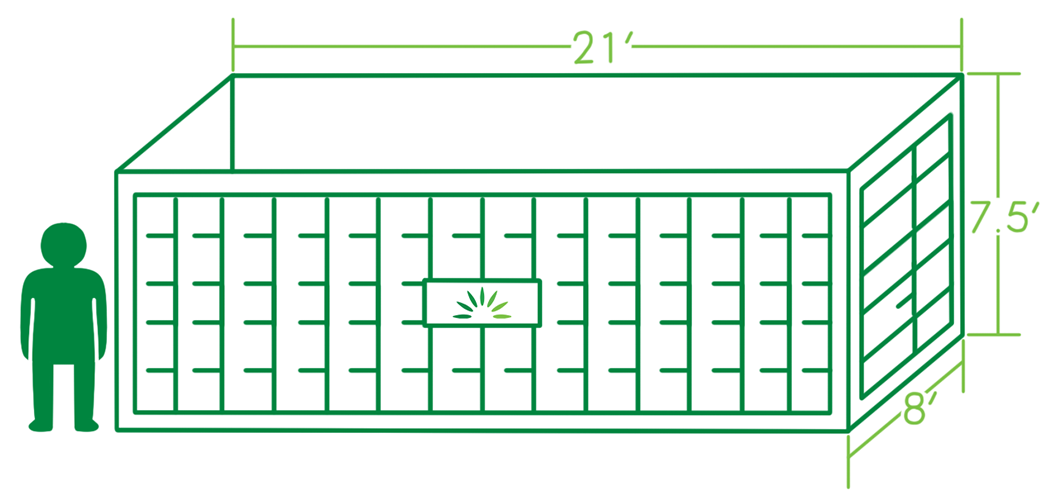 The perfect size for large-scale or long term projects, such as major renovations, construction, deconstruction, and more.
Dimensions
21' L x 8' W x 7'.5" H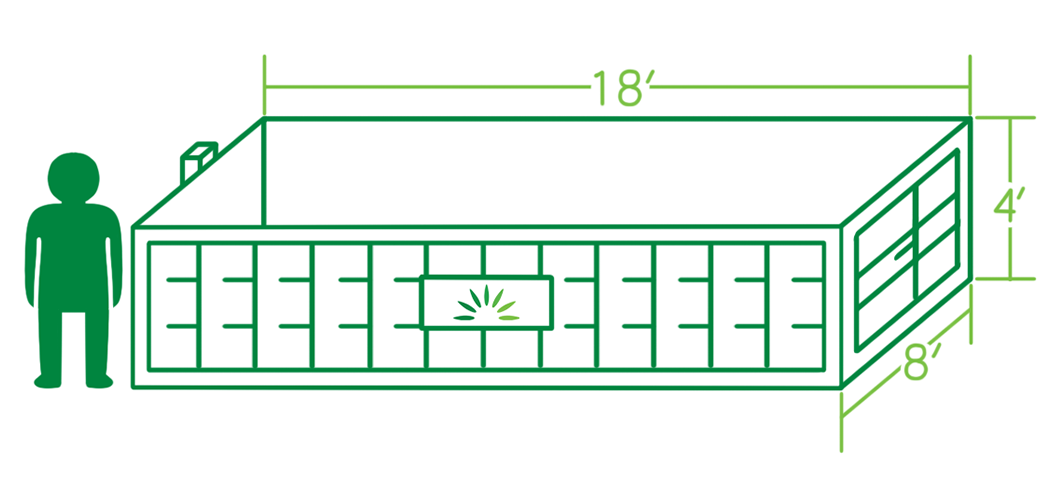 FOR HEAVY MATERIALS
Great for small remodels, home projects, bulky household items, and heavier materials such as concrete, brick, or dirt.
Dimensions
18' L x 8' W x 4' H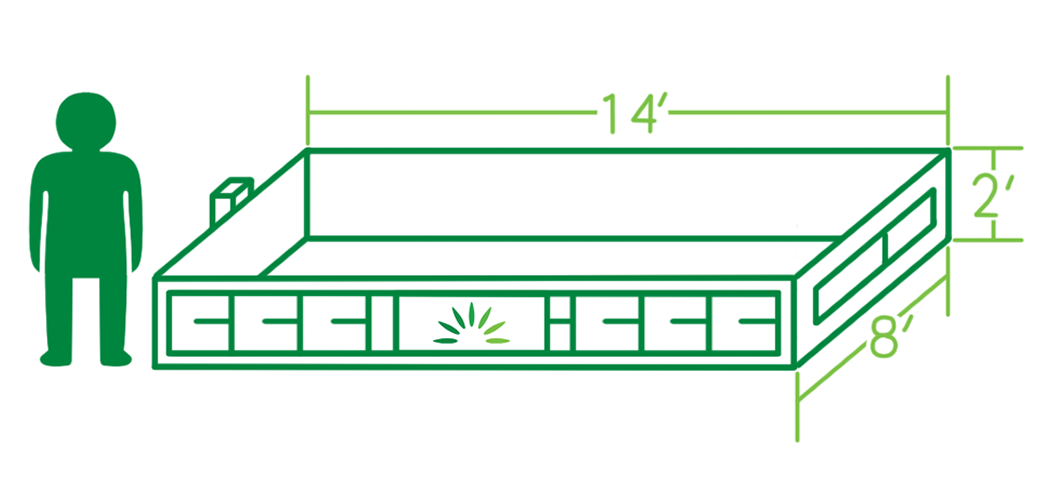 FOR HEAVY MATERIALS
Best for heavy materials such as concrete, brick, or dirt.
Dimensions
14' L x 8' W x 2' H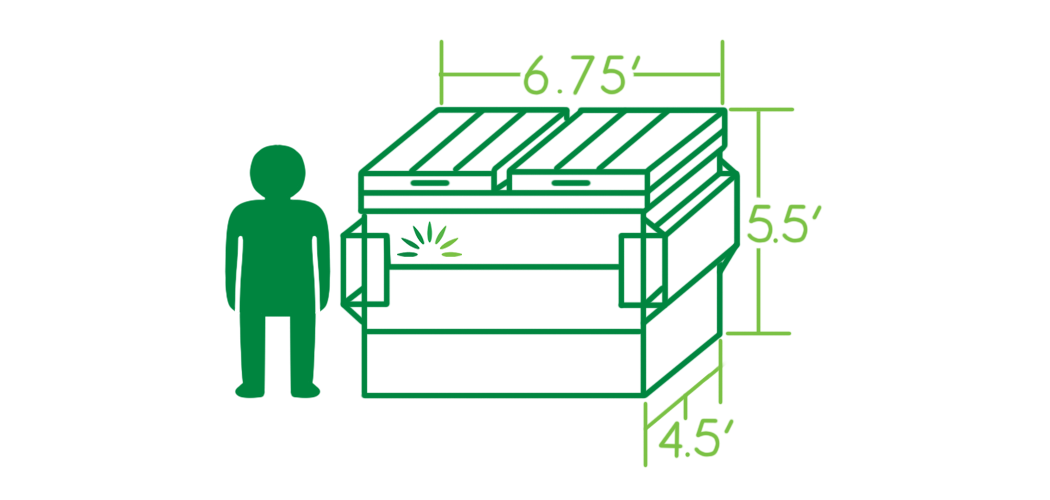 FOR DECONSTRUCTION ONLY
Only available for light material types such as cardboard, carpet, metal, and wood.
Dimensions
2 CY bin: 81" L x 41.5" W x 51.5" H
4 CY bin: 81" L x 55.5" W x 66.5" H
Detailed Construction Materials Guide
Deconstruction Frequently Asked Questions
What is deconstruction?
Deconstruction is the systematic and careful dismantling of a structure, typically, in the opposite order it was constructed, to maximize the recovery of materials for reuse and recycling. For detailed information about the deconstruction requirements, visit www.cityofpaloalto.org/deconstruction and refer to Palo Alto Municipal Code 5.24.
What are the requirements?
The new deconstruction ordinance requires projects where structures are being completely removed to conduct a salvage survey designating the materials to be salvaged for reuse, deconstruct the structure, and source separate materials in different containers (i.e. debris boxes or bins) by material category for recycling. Reuse materials are required to be delivered directly to a City approved reuse organization by the deconstruction customer with certification provided to the City. For detailed information about the deconstruction requirements, visit www.cityofpaloalto.org/deconstruction.
What needs to be source separated?
All deconstruction materials are required to be sorted onsite into specific categories.
Materials for reuse – These materials are designated as salvageable in the Salvage Survey. They are to be prepared and delivered to a City approved reuse facility by the deconstruction customer. Find a list of City approved reuse organizations at

www.cityofpaloalto.org/deconstruction

.

Materials for maximized recycling – GreenWaste of Palo Alto provides containers and collection service for these materials to be separated into specific categories and delivered to one of the City approved materials recovery facilities listed in Green Halo.  Please review the Detailed Construction Materials Guide for more information about specific material categories.
What are the source separated categories?
The categories for source separation of material are: 
Clean concrete
Clean wood (e.g. unpainted wood/lumber, yard clippings/landscaping, etc.)
Sheetrock
Asphalt shingles
Carpet
Metal
Cardboard
Dirt
What size and type of debris boxes or bins do I need?
GreenWaste has a variety of debris box sizes available, including 7 CY, 15 CY, 20 CY, 30 CY, and 40 CY boxes. Additionally, smaller 2 CY and 4 CY bins are available upon request. Deconstruction customers will work with an assigned GreenWaste Environmental Outreach Coordinator (EOC) to determine the type, size, and service frequency of containers (debris boxes or bins) for their project.
For detailed container information please refer to the Debris Box webpage.
What if I don't have room for multiple containers?
GreenWaste Environmental Outreach Coordinators will assist each site to find solutions to space constraints and other site-specific challenges. Different sized containers are available.
How often will my containers be serviced?
Where is deconstruction material processed?
How do I get information for my Green Halo account?
You may call or email Customer Service at (650) 493-4894 or pacustomerservice@greenwaste.com to request a Tonnage and Diversion Report containing weight and diversion information emailed to you. You may view a sample diversion report HERE. 
How do I ensure my project meets requirements?
Sort all recyclable debris according to the detailed material categories. In many cases it may not be possible to meet the 80% minimum overall diversion rate unless correct onsite source separation is undertaken. For successful source separation:
Educate all contractors, sub-contractors, and employees about managing the debris on the project site and correct sorting of materials.
Organize your project site to accommodate reuse and recycling of debris.
Keep all Tonnage and Diversion Reports provided by GreenWaste for entry into Green Halo.
Communicate any questions or concerns to the GreenWaste Environmental Outreach Coordinator assisting your project or contact Customer Service.
Please visit Zanker Recycling to find up to date diversion rates.
What is considered contamination?
Contamination occurs when materials are sorted into the wrong container or improperly mixed. It is the responsibility of the deconstruction customer to ensure that only acceptable materials are placed into designated containers. Contamination will negatively affect your final diversion rates and may lead to additional fees. For help with proper sorting of materials contact Customer Service.
Will my container still be serviced if it is contaminated?
Debris boxes or bins containing hazardous material or medical waste will not be serviced. The deconstruction customer will retain responsibility for removing and properly disposing of these materials. 
Debris boxes or bins that are contaminated with improperly sorted material will be serviced and charged a contamination fee of $185.30. Contaminated loads require more extensive sorting at materials recovery facilities and may result in additional processing fees imposed by the facility if the material is reclassified as mixed or miscellaneous debris. 
For more information on rates, please refer to the Debris Box Rate Schedule (R-C: Section 5) or contact Customer Service.